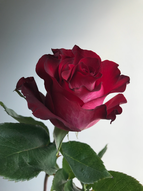 A new lady in town!
This is the very first time we're testing a variety by Floral Special so why not testing their brand new variety called 'My Lady'. This two toned dark red rose is grown in Ecuador, which sounds very promising to us.
Information:
Name: My Lady
Colour: Dark Red / Burgundy
Grower: Floral Special
Country: Ecuador
Length: 60cm
Introduction:
Who is floral special and who is the new lady in town?!
Floral special is a company which is specialized in importing the most beautiful varieties of roses from Ecuador.
Roses from Ecuador are famous for their big buds and outstanding vaselife.
So we are very curious what this rose will bring us! 
Will Floral Special convince us with their 'My Lady'.
First Impression:
'My Lady' is a beautiful two toned dark red variety, the big rosebud is attached to a strong stem with healthy looking green leafs. 
With the Ecuadorian background and the fresh way the roses look the expectations are high even though we don't know this grower very well.
After 7 days:
The roses are already opening up widely, the color is getting brighter and they still look very fresh.
After 12 days:
 They opened up even more and every single one is still standing. 
Conclusion:
It's always special when we are testing a new variety especially when we've never tested any variety of this grower/import company before.
I think Floral Special convinced us right away with this awesome rose!
After a couple of days 'My Lady' started to open up and she just didn't stop grower and shining for two full weeks!
You can see the color changing every day and the way the petals are shaped is just something you don't see every day.
We won't jump to conclusions to soon, since this was just the first variety of Floral Special we've tested we won't say too much about this import company but one thing is for sure, their variety 'My Lady' is breathtaking and we can't wait to test some more varieties out of their range! 
Why should you buy this rose?
Special shaped petals
A vaselife of two full weeks!
Beautiful two toned color
Big rosebuds
Thank you for reading this flowertest,
please leave a message in the comment section or at one of our social media accounts.
Jex & Nine