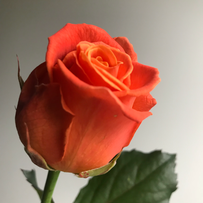 A Key Player
This beautiful bright rose is called after Clarence Seedorf, a famous soccer player with a very important role in the dutch national soccer team.
Can this rose also be the key player in your bouquets and arrangements?
Information:
Name: Clarence
Colour:  Orange 
Grower: Berg Roses
Country: Netherlands
Length: 70cm
Introduction:
Some of you might not know the legend Clarence Seedorf, but in Holland it's a very famous soccer player.
He played for the national team and also for well known soccer clubs as Inter Milan, AC Milan and Real Madrid.
Clarence was a very important player which played a big role on midfield.
When you name a rose after such a big star you have to got a lot of confidence.
Will this rose be a key player in every arrangement and bouquet and live up to it's name?
First Impression:
A bunch of 10 bright orange roses are shining on our dining table.
The color is so bright and pure orange it almost looks like they will lighten up in the dark.
Another fascinating thing about these roses are the two colored leafs.
The upper side is perfectly green and the back of the leafs are more grey/red.
Also the shape is a little bit different than other roses, these are more jagged. (check out the last picture!)
After 7 days:
Only after 3 days you already see a big difference with day 1 but after a full week they already opened up beautifully, I'm very curious if this one opens up even more.
After 12 days:
They are still opening up wider and wider!! 
Conclusion:
I'm completely surprised by this rose.
It was clear from the start this was a fresh and good looking rose which would last a while but I didn't expect them to open up this big!
And a vaselife of more than two full weeks! Amazing!
With this beautiful rose in your arrangement you'll create an eye-catcher without any problems.
The bright orange color catches the eye right away and gives you an instant feeling of happiness, perfect for to use this spring and summer.
But after that also very easy to combine with autumn flowers like chrysanthemums and physalis.
No need for a second chance for this rose anyway!
Why should you buy this rose?
Lovely bright orange color
Amazing vaselife
Perfect for spring and summer
Strong rose