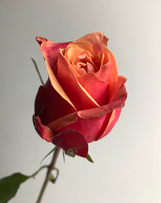 Cherry Brandy on the rocks
A beautiful two toned orange/brown rose, named after the cherry liquor Cherry Brandy. Will it be as strong as a rock or will it give us one big hangover?
Information:
Name: Cherry Brandy
Colour:  Two toned (Orange/Brown)
Grower: Ayana
Country: Kenya
Length: 40cm
First Impression:
It's a very special colored rose which is perfect for autumn decorations and bouquets.
The heart of the rose is bright orange and on the outside the petals are darker orange almost brown.
This bud feels very hard and strong and the leafs are dark green and shiny.
I think this might be a very strong rose with an excellent vaselife, but we will see!
After 7 days:
From the 10 stems 8 opened up already and the other 2 are a little bit slower.
After 12 days:
They all opened up, the 2 'slow-openers' are still a little bit slower but at least they do open up!
Conclusion:
This is a very special rose which is perfect for this time of the year.
When it's closed you see the darker outer petals but when they open up they get brighter every day.
Because of the long vaselife it looks like you have a different vase of roses every 2 or 3 days, you'll start with almost brown looking roses and end up with bright orange roses which are close to yellow.
I did expect this roses to last at least one week but they surprised me with a vaselife of 12-14 days.
Why should you buy this rose?
Perfect for Autumn
Good vaselife
Changes color during the week
Excellent