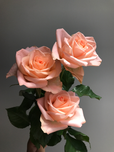 A May Fair in June
Mayfair! A rose with a very unusual colour but a rosebud with a beautiful and traditional shape. We will test them for you and tell you if this rose is a keeper or just a one timer.
Information:
Name: Mayfair!
Colour:  Peach
Grower: Linssen
Country: Ethiopia
Length: 60cm 
First Impression:
I had a very busy Mondaymorning  when I walked past  a bucket filled with these awesome roses.
Although I had thousand other things to do, I had to take some time to take a closer look.
The perfect  shaped budds had a colour so special I couldn't name it.
It looks like a combination of pink and creme with a touch of orange.
I had to take them home to test their vaselife and to see what the colour would be after a couple of days!
After 7 days:
The shape is perfect and they're all starting to open up.
After 10 days:
The complete bunch opened up, they still are very vital and the colour is awesome!
Conclusion:
You can say this rose is pink, you can say it's orange but my instagramfriends voted for: peach.
The colour changes a little bit during the week as the bud opens up.
After one week you will have a bunch of beautiful traditional shaped roses, with an intense and special colour.
The first one started to drop his head after 12 days an the strongest one survived for 15 days.
This isn't just a rose with a special, it's also a very strong rose.
Positive Points:
Excellent vaselife 12-15 days
Very special colour
Traditional shap
Only a few thorns
Negative Points
I don't think I can come up with any negative points!