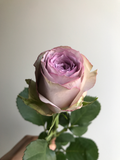 Rose: 'Lullaby'
What?
In this new edition of flowertest we're testing the milka rose called 'Lullaby', a beautiful rose from the grower 'Qualirosa'.
Information:
Name: Lullaby
Colour:  Milka
Grower: Qualirosa
Country: Ethiopia
Length: 60cm 
First Impression:
This is a typical wedding rose! That's the first thing that came to my mind when I saw this rose.
Such a lovely soft and nice colour, it will fit perfectly in a wedding with a pastel theme.
The shape of the bud is not the 'traditional' rose shape but more like the new and trendy ranunculus look a likes.
The amount of thorns is just normal, the stems are strong and the leaves are as green as they should be.
All together the first impression is very good, a fresh and strong rose with a beautiful colour!
After 7 days:
Most of the roses already opened up, they have a beautiful shape and the colour is getting lighter.
After 12 days:
They all completely opened up right now, some of them will last even a couple of more days. 
Conclusion:
 This is a very beautiful rose, especially for weddings and pastel themed party's.
The colour is really soft and beautiful just like the rose itself.
Because of the special shape and soft colour I think this rose is a real bestseller and when you (or you customers) enjoyed the beauty of this rose for 10 to 14 days you never want definitely want more!
So weddingplanners and florists if you want to impress your customers, remember to give them a bunch of sweet Lullabies and they would definitely have some sweet dreams!
Positive Points:
Very good vaselife of 10-14 days
Beautiful soft colour
Every rose opens up
Negative Points