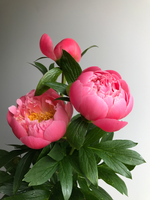 Mothersday
All over the world people celebrate mothersday on many different dates, but the biggest part of the world celebrates it on the second Sunday of May.
Ofcourse your mum says she is 'happy with any gift as long as you don't forget her', but we know for a fact what she really wants...... flowers!
In this blogpost we show you some beautiful flowers and tell you what your best options are!
Mama is always right
First of all we have to say we agree with your mother, ofcourse the most important thing on mothersday is to show your mum you appreciate her and you don't take her for granted.
But what do you buy her when you don't forget mothersday?
Mama's choice 
There are a lot of gifts where you can think of like;
parfum,  
a day shopping together (I seriously don't recommend that for the men among us),
chocolates,
a new vacuum cleaner or iron (also not very smart to give)
and ofcourse flowers!
We don't have to tell you we would definitely go for the last option!
But why should you go for flowers?
Why flowers?
When you put a little bit effort in it and don't just grab a little bouquet at the gas station, you can buy your mother a really personal gift at your local florist.
You can for example try to find out which flowers your mother likes the most.
Or you can go to the flowershop and ask if you can put together a bouquet yourself, you choose the flowers you like and they arrange it together.
But when you're really want to go the extra mile you can first seek the internet for meanings of flowers and then arrange a bouqeut based on your mums characteristics.
When you were a pain the *ss you can go for the Aster (Patience) and Hybrid Delphiniums (big heartedness) for example.
Our favorites!
So you love your mum to the moon and back but you don't have time to find out which flowers she likes or to seek the internet for flower meanings.
Don't freak out, we tell you exactly what the best options for you are!
Ofcourse we have to kick of our 'favoriteslist' with roses, because roses are always a good idea!
Nowadays there are so many beautiful varieties which have an excellent vaselife, you can check our "flowertests" for some inspiration.
When your mother is a true star in killing flowers it may be a good idea to go for lilies or chrysanthemums.
These flowers are a little bit stronger and you have a bigger chance they would survive your mothers treatment.
But when you really want to impress your mum you have to give her peonies!
The Peony season has just begun a couple of weeks ago and around this time it's one of the most popular flowers.
Because of their popularity you have to pay a little bit more, but I bet you mum is worth it!
I hope we've give you enough options but to make sure you've got insipration enough we've added a couple of pictures for you!
Have a nice mothersday and let us know what you gave your mother!
J E X