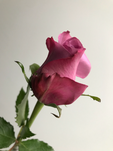 The big easy!
This rose is named after 'the big easy' or 'New Orleans', a lovely city which is famous for their music and easy going lifestyle.
This week we are going to find out if this Qualirosa rose is also big and easy going. 
Information:
Name: New Orleans
Colour: Milka
Grower: Qualirosa
Country: Ethiopia
Length: 60cm
Introduction:
'The Big Easy' is on of the nicknames of the city of New Orleans. There are many explanations for this nickname and most of them have something to do with the city's spirit and about the way people embrace life in New Orleans.
In this flowertest we are going to find out if this rose has any interfaces with this 'easy' city.
First Impression:
At first sight you won't say this is a 'big' rose, at least the buds are small but they look very fresh indeed.
The lovely purple/milka color is an easy color to combine with other flowers so that's already one interface with the nickname of the city of New Orleans.
After 7 days:
At first sight you wouldn't expect this rose to open up but after 7 days you can already see it open up bit by bit.
After 12 days:
Amazing what this rose turned in to! After almost 2 full weeks the roses grew 2-3 times their size!
So after this test we know why this rose is named after New Orleans or 'The big easy', it opens up big and is easy to combine  with other flowers.
Conclusion:
We already came to the conclusion that the color of this rose is easy to combine with other colors, so that's an interface with the 'easy' part in 'the big easy' (the nickname of the city of New Orleans).
After a couple of days you can also add the 'big' part to the interfaces between the city's nickname and this rose.
At day one when the buds are closed 'New Orleans' looks like a small budded rose but after a couple of days this rose turned into a wide opened big and beautiful rose!
An absolute surprise.
After 12 days we can only say this is a rose which fits in the Qualirosa brand perfectly, an excellent vaselife and a real delight to have at home!
Why should you buy this rose?
Grow surprisingly big
Perfect vaselife
Lovely color
Strong rose