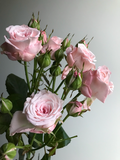 Aerobic for a fit future!
With aerobics you train your flexibility , your strength and your fitness. This week we are going to find out if the spray rose 'Aerobic' by VOORN Roses is fit enough to deserve this name.
Information:
Name: Aerobic
Colour: Pink 
Grower: VOORN Roses
Country: Netherlands
Length: 70cm
Introduction:
Aerobics is a good way to train your flexibility and strength to gain physical fitness.
So when you give your spray rose the name 'Aerobics' it has to be a flexible and strong rose.
VOORN Roses gave us the opportunity to see if the name fits this spray rose.
First Impression:
Like the other VOORN Roses varieties we've tested the amount of buds per stem is unbelievable.
A bunch of 5 stems feels like two dozen of roses and you can count at least 13 buds per stem.
The soft pink color is lovely and easy to combine with a lot of other colors.
After 7 days:
They opened up extremely wide and have a lovely traditional rose shape. 
After 12 days:
Almost every single flower opened up, even the little ones.
Conclusion:
Unbelievable quality! At the and of the second week the vase is completely filled with beautiful flowers. It looks like we had a bunch of 40 roses but in fact we had just 5 stems! As you can see in the picture of day 12 every single flower grew twice their size.
As you can see in the picture at the bottom of the page you can arrange a lovely combination with 'Aerobics' and the other VOORN Roses varieties.
Aerobics can be used as a 'solo flower' but is also perfect for bouquets and arrangements. Because of the color it's also easy to combine with a lot of other colors.
With a vaselife of two full weeks and a lot of combination possibilities we can say Aerobics is the perfect name for this awesome spray rose!!
Can be used for many purposes
Fits the pastel trend
Strong and flexible spray rose