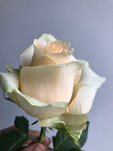 The magic of Avalanche
The many different Avalanche varieties are very well known in the floral world. They are famous for their excellent vaselife and elegant colors. We're going to find out if Magic Avalanche by Qualirosa fits these descriptions.
Information:
Name: Magic Avalanche
Colour: Champagne 
Grower: Qualirosa
Country: Ethiopia
Length: 60cm
Introduction:
When you are looking for a rose with a outstanding vaselife which would definitely open up it's smart to search for one of the many different Avalanche varieties. Of course the most common one is the white 'normal' Avalanche+ but nowadays there are many different Avalanche varieties. It might be a good idea to write a blog about the 'Fifty Shades of Avalanche' in the future.
Now one of our favorite growers asked us to test one of those Avalanche varieties named ' Magic Avalanche' and we are absolutely thrilled!
First Impression:
A bright rose with a lovely shaped bud, the color is really soft and pure.
The stems are strong and the leafs are perfectly green.
Because by now we can say we know Qualirosa and we can tell you this is Qualirosa quality all over again we are sure this rose will last over 12 days again.
After 7 days:
The roses already opened up a little bit and you see the color changing.
After 12 days:
They open up wider and wider just as you would expect from an Avalanche variety.
Conclusion:
Such a lovely rose!... again!
As you can see in the pictures they opened up beautifully, the color is amazing even after 12 days and it's just pure quality again.
Of course we knew a little bit what to expect but it's always nice when your prediction turn out right.
When you're looking for a rose which fits the pastel trend, opens up softly but widely and has an amazing vaselife, this is the one!
Why should you buy this rose?
Lovely color
Vaselife of 12-14 days
Strong rose
Quality Grower + Quality Variety = Top Quality
Thank you for reading this flowertest,
please leave a message in the comment section or at one of our social media accounts.
Jex & Nine