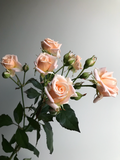 Champagne for Justine?
 Already the second variety we had to test in the new range of spray roses by VOORN spray roses. After this one we can start making the first conclusions about the new path VOORN has chosen.
Information:
Name: Justine
Colour: Champagne
Grower: VOORN Spray Roses
Country: Netherlands
Length: 70cm
Introduction:
After the flowertest of Galina by VOORN we can't wait to test another variety just to see if they are indeed on the right path.
Galina did impress us very much so we can only hope Justine does that too.
When Justine will impress us we can slightly say VOORN is on the right way!
First Impression:
It's impressive how many buds there are on every stem, they just feel so heavy.
Again we have a bunch of 5 stems bud when you feel the weight and see the amount of buds you will say it's a bunch of 12 stems at least!
We love the pastel trend and with the champagne color Justine fits in there perfectly.
Most of the buds are closed which makes it harder for them to open up, which will make it even more impressive when they do open up!
After 7 days:
You already see a big difference with day one, the big amount of buds are opening up and growing bigger.
After 12 days:
It's a full bouquet of rosebuds now, they beautifully opened up.
Conclusion:
VOORN is going the right way!
That's one thing we can say already after testing two of their new varieties.
Both varieties had an excellent vaselife and were from a very high quality.
Ofcourse it's nice when a spray rose has a lot of buds but the main question is if they open up.
Justine opens up beautifully and after a day or 9 you have this big vase filled with rose buds.
That's pretty awesome considering you already have this amazing effect with only 5 stems!
And with the lovely champagne color it fits the pastel trend perfectly, like most of the other VOORN varieties.
When you check the last picture on the right side of this post you can see the varieties are lovely together in one vase!
Why should you buy this rose?
Heavy Quality 
Excellent vaselife
A high amount of buds
Almost every bud opens up
Fits the pastel trend