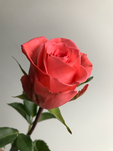 Sankara, a bright coral pearl!
We can't wait to test this lovely rose, we've already had this one before from another grower but this time we're testing them from one of our favorite growers! The expectations are high!!
Information:
Name: Sankara
Colour: Coral 
Grower: Qualirosa
Country: Ethiopia
Length: 60cm
Introduction:
The expectations are high on this one! Our flowerfriends who are following us for a while now know that we've featured this rose a couple of times on instagram already, but from a different grower.
It also ain't a secret that we are a big fan of the Qualirosa roses because of their outstanding vaselife and good quality.
So we've got a rose which we absolutely love and this time it's also from the hand of one of our favorite growers, this can't go wrong right?!
First Impression:
A lovely bright coral color and perfectly shaped buds, this is exactly what you can expect when you combine a top quality grower with a lovely variety.
It's always dangerous to have high expectations because you can get disappointed easily but we can't help ourselves; this has to be a true beauty in a couple of days because it already is beautiful on day 1!
After 7 days:
The petals are unfolding and are have a perfect shape, the bright color hasn't fade a bit.
After 12 days:
It opened up widely and in the centre the rose still is amazingly bright. Every stem of the bunch opened up completely.
Conclusion:
We can be really short about this rose;
WE LOVE SANKARA!!!
When you follow us on instagram and facebook you have probably seen this rose before on our feed.
Normally we don't post pictures of roses before we uploaded a flowertest but the first time we had this variety at home we had to share it with you.
Now you've read the flowertest with the pictures you'll exactly understand why we love this variety this much.
For us this rose is the discovery of last year. 
Why should you buy this rose?
Vaselife of 13-16 days
Amazing bright color
One of the best roses of 2017
Opens up widely