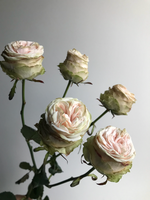 A new direction!
This is the first flowertest in a series of 5 'episodes' where we test new varieties of spray roses by VOORN roses. They have chosen a new direction with new varieties and we had the honor to be one of the first to test them! We start this series with the lovely variety 'Galina'.
Information:
Name: Galina
Colour: Cream White 
Grower: Voorn Roses
Country: Netherlands
Length: 70cm
Introduction:
A new direction for Voorn Rozen (roses)! For years they grew 'the number one red rose' 'Grand Prix' but now it's time for a new direction and that's why Voorn Rozen starts with their new brand VOORN Spray Roses.
They are starting with 5 varieties of exclusive spray roses which will be available from now on. But we had the big honor to already test them before the big introduction! The first variety we've tested is the beautiful big budded cream white spray rose 'Galina'.
First Impression: 
At Voorn Rozen they told us that with their new brand  'VOORN Spray Roses' they want to grow the highest quality spray roses possible, and that's something you see and feel immediately.
Every bunch has 5 stems but it definitely feels like you're holding at least 10 to 15 stems, they are wrapped in a classy black and white sleeve which has a very luxury appearance.
On every stem you can count at least 5 big buds with a very special 'filled' shape.
I'm really curious what will happen with these 'filled' spray roses after a couple of days.
After 7 days:
The buds are slightly getting bigger and you see them open up bit by bit.
After 12 days:
Every stem is still beautiful and all the buds grew bigger, you see the color getting brighter every day.
Conclusion:
VOORN is aiming at high quality spray roses and although we don't want to jump to conclusions too fast, we really love what we see. Of course this is the first variety of them we've tested but we can at least say this is very promising.
They've lasted over two weeks and looked fresh from the first day till the last.
The buds slightly open up and getting brighter day by day.
The color is also very easy to combine with other colors and fits the pastel trend which is very important for wedding florists nowadays.
Why should you buy this rose?
Outstanding quality
Lot of buds
Fits the pastel trend
Beautiful bud shape