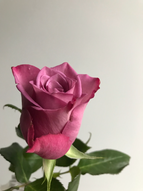 Go Now! Moody Blues
The Moody Blues are a band from Birmingham with a lot of international hits. As one of the first bands they combined classical music with rock and nowadays they are called "the pioneers in the development of progressive rock". Will the development of this rose be as great as the development of the band? We will find out! Go Now!!
Information:
Name: Moody Blues
Colour: Purple
Grower: Qualirosa
Country: Ethiopia
Length: 60cm
Introduction:
"The pioneers in the development of progressive rock".
That's how people call the band Moody Blues nowadays because of their album 'Days of future passed' which was a fusion of classical music and rock.
With this new kind of music they had some big international successes, they have sold over 70 million albums and have been awarded with several platinum and gold discs.
Will this rose be as progressive and successful as the band?
First Impression:
A lovely soft purple color on a traditional shaped rosebud.
They look fresh with strong stems and dark green leafs. 
I'm very curious what is going to happen the upcoming days because right now this looks just like a 'normal' purple rose and most of the time Qualirosa-roses are way more than average.
But we will see, maybe they will surprise us another time!
After 7 days:
The roses opened up faster then I thought, after only two days the started to grow and now they already are opened up widely.
After 12 days:
I never expected this rose to grow this big, the color is faded to very soft purple/pinkish.
Conclusion:
At first sight I didn't expected this rose to grow this big.
They completely opened up and you see the color changing every day, the started as real purple roses and now they have a more pinkish color.
One of the most important moments in the history of the Moody Blues band was their change of music they were making.
They slowly changed from Rhythm and blues to progressive rock and right after that they became famous.
Just like the band on day 1 it's just a purple rose like any other but after a couple of days it you'll see them changing and after a day or 10 it's a completely different rose!
Again we have to come to the conclusion that this is another beautiful variety by Qualirosa, like always! ;-)
Why should you buy this rose?
Opens up widely
Vaselife of two weeks
Grows surprisingly big
Strong rose