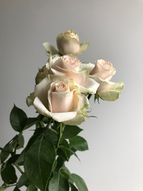 A lot of bubbles!
There's a big chance you think of champagne when you see this Champagne colored rose with the name super bubbles, but in the financial world they use the word 'bubble' to describe a market where the stock prices are way above their value. What do you think, will it be champagne for this rose or is it overrated? 
Information:
Name: Super Bubbles
Colour: Champagne 
Grower: Qualirosa
Country: Ethiopia
Length: 60cm
Introduction:
It's obvious where the name super bubbles comes from, the rose is champagne colored and because of the big amount of buds on every stem I think the name is on point.
But on the stock market the participants call a overheated market which rises way above their value a 'bubble'.
After this test we will know the real meaning of this name, is this rose overrated or does it deserve a champagne shower?!
First Impression:
As we said in the introduction there are a lot of big buds on every single stem.
They all look very fresh without any damage spots and with a clear champagne color which can be used in combination with a lot of other colors.
After 7 days:
Wow, we already see where the part 'super' comes from! They opened up beautifully and grew a lot bigger!
After 12 days:
As you can see on the picture the color changes as they open up. They are turning a little bit more (soft) pink every day.
Conclusion:
It's unbelievable how they open up, every bud grew almost twice their size.
When they start opening up you'll see a little touch of pink coming through and after a day or 10 you can say the color turned to soft pink.
They lasted for two full weeks and even on day 12 they still look as fresh as day 1!
I think we can really make a short conclusion because the pictures tells us enough; This is an exceptional strong and beautiful rose! 
Why should you buy this rose?
A lot of Big Bubble Buds
Superb vaselife
Fits the pastel trend
Every bud opens up!