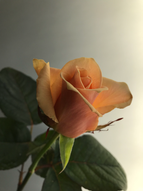 All eyes on me!
The "Prime Donne" (First Ladies) of the opera likes to be the centre of attention, they are the most important women of the company. But does this rose also deserve to have all eyes on her and be the star of every flower arrangement ?
Information:
Name: Prima Donna+
Colour:  Salmon 
Grower: Arend Roses
Country: Netherlands
Length: 70cm
Introduction:
The 'Prima Donna' (First Lady) is the leading female singer in a opera play.
They were well known for their big attitude on and off stage.
They know they are important to the play and like to have all the attention. The name "Prima Donna" can be compared with the modern "Diva".
First Impression:
The beautiful big salmon colored bud is attached to a strong stem with beautiful green leafs, the amount of thorns is normal.
This looks like a very strong rose which is perfect for pastel themed weddings and parties.
The last rose we tested from Arend roses had  a very long vaselife so the expectations are high this time!
In a couple of days we know if this rose deserves to be the centre of attention.
After 7 days:
The roses slightly open up, it seems like they get a little bit darker every day.
They still look so fresh and vital you would almost think they will last another week.
After 12 days:
The rose came open a little bit more, and is still standing!
Conclusion:
A vaselife of two full weeks!
We can be very short about this; this rose totally deserves to be the centre of attention!
Although the first days I doubted if they would open up, they started to unfold at the end of the first week.
It seems like the beautiful salmon color gets intenser every time you look at it.
This rose can handle the job as wedding rose without any doubt.
When you want to make the perfect pastel combination with Prima Donna+ it's a smart idea to take a look at the other roses from the Eagle range by Arend Roses.
Why should you buy this rose?
Beautiful color
Outstanding vaselife
Fits the pastel trend
Strong rose