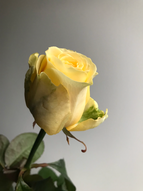 Delicious Buttercup! 
Buttercup is one of the latest varieties by Van den Berg Roses and we love them.
The soft creamy color and perfect shaped bud makes it look like you can eat this beautiful rose. 
But does this rose makes us hungry for more?
Information:
Name: Buttercup
Colour:  Buttery yellow (soft yellow)
Grower: Berg Roses
Country: Netherlands
Length: 70cm
Introduction:
Because this rose is pretty new I had to do some extra research. The biggest issue was a fitting description of this fresh and sophisticated color, so I googled for descriptions of  'soft creamy yellow'.
Google showed me a lot of delicious looking cakes (which made me really hungry!) and a couple of good suggestions like 'Sunny Soft Yellow' or
'Light Lemon Yellow' and ofcourse 'Pastel Yellow' but then there was........... Buttery Yellow!
I think we've found the perfect description so now it's time to test this beautiful buttery yellow rose!
First Impression:
The leafs are pure green and the amount of thorns is just normal.
The bud shape is traditional and about the lovely color we've already said enough.
They look very vital and fresh so I think they would last a while.
Anyway we can say the first impression is very good!
After 7 days:
They still look as fresh as day one, they opened up just a little bit but I don't think this variety opens up very widely. Only by the color you can tell they're 'getting older'.
After 12 days:
They opened up a little bit more and the soft yellow color is almost white with a little yellow touch right now. 
Conclusion:
The vaselife is amazing and the lovely yellow color is getting more creamy and buttery every day.
We really love this rose, it's perfect for pastel themed arrangements and bouquets but also as a solo flower at home or as a present it's perfect!
After 2 full weeks we can say this rose completely satisfied our hunger but it also makes us hungry for more!
This is just one of the new varieties by Van den Berg Roses and we can't wait to test the other new varieties too!
Why should you buy this rose?
Lovely color
Amazing vaselife of 14/15 days
Also nice for pastel themes (especially after 5/6 days)
Strong rose