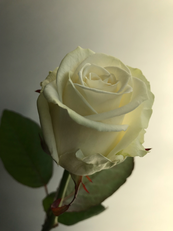 As white as Marylin Monroe's dress.
According to the grower this rose has to catch that 1950's feeling. The feeling of white clouds, pure silk and the dress of Marilyn Monroe.
Will this rose gives us exactly that feeling, or is it just big talk?
Information:
Name: White Soda+
Colour:  White
Grower: Arend Roses
Country: Netherlands
Length: 70cm
Introduction:
I tried to come up with a nice introduction and then I found this description on the website of the grower:
"That sense of boundless opportunities of the fabulous 1950's, caught in a large-headed bright white rose: White Soda+.
Clean and fresh as washed linen, fluffy clouds, Monroe's iconic flying skirt and the T-shirts of the Fonz in Happy Days.
Innocent as a pin-up in mono bouquets and a refreshing retro element in mixed arrangements." 
First Impression:
After reading the description of White Soda+ at the growers page the expectations are really high!
We have to admit we can see the potential of this rose, but of course we want to see with our own eyes of this rose is worth al those beautiful words.
At first sight this seems to be a strong rose, the big buds are really pure white and the leafs are perfectly green.
The amount of thorns is normal and the stem feels very strong.
So the first impression is good but we are curious if they are as good as Arend Roses says they are.
After 7 days:
Every single one is opening up and they are really growing big!
After 12 days:
They all opened up widely and I think they will last at least 2 or 3 more days.
Conclusion:
Ok Arend Roses, you were right! This rose really impressed us!
They lasted 15 days and grew twice their size!!!
Normally when you think of a dutch white rose you immediately think of Avalanche+ but we think White Soda+ is at least as good.
They completely unfold and stayed pure white for the full two weeks.
Because the first half of the description Arend Roses gives is exactly on point we want to add the other half too:
"White Soda+ is also perfect for wedding florals that ask for the kind of pure white only virgin snow has to offer. This strong rose offers a big bud that opens wide into a petticoat of petals. Its clean vibe fits seamlessly into the growing longing for that fresh uncomplicated optimism of the feel good fifties." 
Why should you buy this rose?
Pure White
Unbelievable vaselife
Opens up wide
Grow twice their size