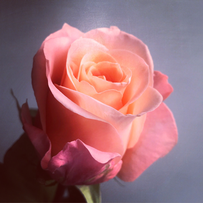 War of the roses
This beautiful rose is called after Lady Margaret (Beaufort), she was a key figure during the War of the roses.  Will this rose also be a key figure in the world of the roses?
Information:
Name: Lady Margaret
Colour:  Pink/Orange
Grower: Timaflor
Country: Kenya
Length: 60cm
Introduction:
Lady Margaret was a very important person in the wars of the roses. These were a series of wars in England between two rival royal families. Because they both had family symbols with roses in it they call it the Wars of the roses.
After the war lady Margarets son became the king of England and she became (next to the queen) the most important and independent woman of England.
Does this rose deserves to be named after such an important woman or not?
First Impression:
The lady Margaret rose has a special color and we are going to find out if it's as strong as the woman where it's named after.
The first impression is very good, the color is bright and the stems are strong. 
They have beautiful big buds which are already slightly opened, so probably they will open up easily.
After 7 days:
One by one they' re getting bigger and more beautiful every day.
They starting to open up beautifully and the color is just amazing!
After 12 days:
We started with 10 stems to test and at the end of the week they all opened up, 3 of them opened up for 75% but the other 7 opened up completely! 
Conclusion:
After two weeks I can completely understand why this rose is named after such a powerful women.
This is a strong rose with a very special color, a true delight to have at home.
The vaselife is excellent and you see the color changing every day.
We had the pleasure to have this rose at home but it's also perfect for pastel themed arrangements and weddings.
We love it!
Why should you buy this rose?
Amazing color!
Perfect vaselife
Opens up completely
Strong rose