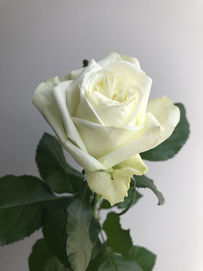 An elegant rose with a special heart
A very unusual shape, a perfect white color and a grower which we didn't test before! I'm curious.....
Information:
Name: Blanche Elegance
Colour:  White
Grower: Wans Roses
Country: Germany
Length: 60cm
First Impression:
In the world of the roses there are a lot of different white varieties, but I've never seen one with such a special 'heart'.
Every single rose has a different heart and a kind of his own identity.
We've never tested roses from this grower and in fact it's the first time we're testing German roses!
I really don't now what to expect but the first impression is good, it's a special rose which seems very strong and vital.
After 7 days:
The roses are getting bigger and opening up a little bit.
From the bunch of 20 stems only 2 are showing little brown spots which can also be caused by transportation.
After 11 days:
About 90% opened up beautifully, brown spots appearing on more roses and I think they don't last much longer.
Conclusion:
It's obvious why they choose to call this rose 'Blanche Elegance', with such an elegant shape this name really fits the rose.
This rose would be perfect to use for weddings, of course because of the white color but the shape gives it something extraordinary which is perfect for a special day.
And when it's not your wedding day (which would be almost every day in most cases) it's also a very good choice to give to someone or to yourself. With 10-12 days you can say the vaselife is very good, so at least you can enjoy your purchase for over a week!
Why should you buy this rose?
Perfect for weddings
Good vaselife
Opens up beautifully
Elegant rose!