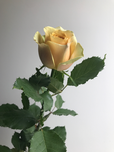 Go for Gold(en Mustard)
A special colour and beautiful traditional shaped bud but will the Golden Mustard really go for gold?
Information:
Name: Golden Mustard
Colour:  Mustard (Yellow/Brown)
Grower: Qualirosa
Country: Ethiopia
Length: 60cm
First Impression:
The first impression is very good, the special coloured buds are attached to strong stems with dark green leaves.
They have a traditional budshape and are still very closed which can cause troubles opening up.
Ofcourse we've already tested a lot of different varieties of Qualirosa in our previous flowertests so let's just hope they  provided us with the same high quality as always!
After 7 days:
They open up really slowly, but you can already see how awesome this rose is on the inside. They have much more petals than I expected.
After 10 days:
The first roses dropped their heads last day, but before that they opened up beautifully and really impressed me.
Conclusion:
It's Qualirosa as always! A very special rose because of the colour and the amount of petals on the inside.
I think this is an awesome rose for people who like to have something different every now and then.
Why should you buy this rose?
Special colour
Good vaselife
Opens up completely
Good quality