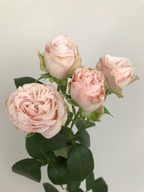 Bo(o)mbastic, call me fantastic!
Who doesn't know the classic Boombastic by Shaggy, would this beautiful sprayrose also be a future classic? Time will tell! The only thing we can tell you right now is the flowertest of  Bombastic.....
Information:
Name: Bombastic
Colour:  (Soft) Pink
Grower: Qualirosa
Country: Ethiopia
Length: 70cm 
First Impression:
This sprayrose looks beautiful and perfect for a lot of different purposes.
It has the right colour for the pastel (wedding)trend of this moment, the classical budshape for traditional arrangements and every strong stem has a lot of branches so you can use it perfectly for bouquets.
We can't wait to find out everything about this rose. 
After 7 days:
 They're starting to open up  and still look very fresh.
After 10 days:
On every stem there are buds which opened up beautifully.
Conclusion:
I do love sprayroses because you can add a lot of flowers and colour to you arrangements with just a couple of stems.
Normally I've got a hard time trying to let them open up, but bombastic opened up easily. 
This sprayrose has a strong stem, a lot of buds (which do open up!) and a beautiful soft colour.
With all those positive points and their excellent vaselife there is a big chance this is a future classic!
Positive Points:
Every stem has a lot of buds
Strong stems
A lot of buds opened up completely
Long vaselife 11-14 days