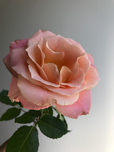 Miss Piggy is weddingmaterial!
Because of the beautiful coral colour this Ethopian rose is used very often for weddings. Will 'Miss Piggy' stay with us for a while or will it be a short marriage? Read everything about this rose.......
Information:
Name: Miss Piggy
Colour:  Pink (Coral)
Grower: Qualirosa
Country: Ethiopia
Length: 50cm 
First Impression:
This Ethiopian rose has a very special pink colour with a touch of orange which you  also can describe as 'coral'.
It's a popular variety for weddings because of this beautiful colour and the traditional 'rose'-shape.
The first impression is really good, the colour is bright, the leafs are green and I'm always happy when a rose doesn't have much thorns.
Ofcourse I've learned from the last time I did a prediction so I'm going to play it safe now, I think most of the roses open up beautifully and will last about 8 days.
After 7 days:
They all starting to open up, I'm really in love with the awesome colour and the shape.
After 12 days:
After 9 days the first rose drops his head, the others are still perfect and some of them opened up completely.
3 days after that the others are also gone but they were all beautiful till the very end!
Conclusion:
This time I played it safe with my predictions and obviosly I was to careful.
Miss Piggy lasted at least 9 days and every single rose came open, some of them opened up so wide you can see the inside of the heart.
I think it's a perfect rose to give as a present to someone but make sure when you buy them to make someone happy don't forget to buy a bunch for yourself or you will regret it!
I totally can imagine why people want this rose for their weddingday.
First of all you would have some very special flowerdecorations with an unusual awesome colour on your big day.
Of course you take the flowers with you after the wedding so you would still have a house filled with flowers for at least another week.
Positive Points:
Awesome (wedding)colour
100% opens up
Almost no thorns
Good vaselife (9-12 days)
Do you want more information about this rose visit the growerspage or contact us via email or social media