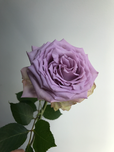 Dancing on cloud nine
Ofcourse we're dancing on cloud nine, we get the chance to test so much beautiful roses every week. But will a bunch of Flora Ola's 'Dancing Clouds' make us even happier? You can now read it in a brand new flowertest!
Information:
Name: Dancing Clouds
Colour:  Milka
Grower: Flora Ola
Country: Kenya
Length: 60cm 
First Impression:  
Sometimes when you see a new variety you don't know what to expect at all.
The roses are very closed when I get them and most of the time that's a bad sign, they will have t struggle more to open up and have a bigger chance to stay closed.
But the shape of the bud says tells me they will be fine and open up beautifully.
When this variety opens up the way I think it would it can be a real musthave in your collection, it's a beautiful colour which can be used in a lot of different ways.
Perfect for weddingarrangements and it fits right in the pasteltrend.
After 7 days:
After only 1 day they start opening up, within 4 days they already big and beautiful.
After one week only 1 rose didn't open up, so right now we have 19 beautiful roses and one who decided to go to sleep. 
That's not bad at all!
After 12 days:
After 9 days the first couple of roses dropped their heads and right now after 12 days there are only 3 survivors 
Conclusion:
This is a beautiful rose which is easy to combine with other flowers, is beautifully shaped, has a good vaselife and I bought them for a fair price.
After 9 days the first roses started to die, ofcourse we had some roses which were stronger but roses which lasts longer than a week are a true gift I think.
Positive Points:
Good vaselife 9-12 days
Beautiful pastel colour
Beautiful budshape
Perfect weddingrose
Not much thorns
Negative Points
I didn't find any negative points