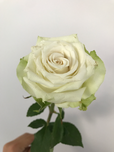 Rose: 'Adalonia'
What?
This time we're testing a big headed rose called 'Adelonia', it's a beautiful big and strong white rose from the Kenyan grower 'Bliss'.
Information:
Name: Adalonia
Colour:  White
Grower: Bliss
Country: Kenya
Length: 60cm 
First Impression:  
At first sight this looks just like a dutch rose, big beautiful buds with strong stems and dark green leaves. I think this can be a spectacular rose considering the big bud and the neutral white colour but is has to open up and last at least 10 days to deserve a place among the champions!I'm really looking forward to test this one!
After 7 days:
They start to open up and most of them look really beautiful.
After 10 days:
The first of them started to die after 8 days and 50% is gone by now.
They all opened up and have a beautiful shape.
Conclusion:
It's a beautiful variety which is very strong and have a beautiful budshape.
The bud stays compact and and has a pure white colour untill the very end.
Positive Points:
Good vaselife 8-12 days
Pure white colour
Compact budshape
Strong stems
Negative Points
Some roses have small damagespots which you only notice after 7/8 days (not a very disturbing point)