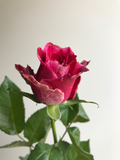 Rose: 'Red Storm'
What?
This time we're testing the two toned roses called 'Red Storm' from Qualirosa. This is the third time we're testing roses from Qualirosa so again it's a kind of growerstest too.
Information:
Name: Red Storm
Colour:  Two toned red
Grower: Qualirosa
Country: Ethiopia
Length: 50cm 
First Impression:  
This is a real eyecatcher, the two toned flames are really awesome and not something you see every day.
The roses have this 'traditional' rose shape, strong stems, not much thorns and fresh green leaves.
The first impression is very good, they look very strong and fresh and it's feels like you bought special when you leave the flowershop.
After 7 days:
They've opened up a little bit and because of the flames it looks like they're changing colours every day.
After 12 days:
All 20 pieces opened up completely and every single one has another pattern of flames. 
Conclusion:
That special feeling when you leave the flowershop like you bought something special really get's bigger every day you have this rose at home.
The traditional rose shape combined with the untraditional colour makes this a really eyecatcher.
Every single rose is different and every one beautiful, it's like you have a bunch of roses which all tell their own story in one vase.
I think I don't have to tell you I highly recommend this one to you! 
Positive Points:
Perfect vaselife of 12-14 days
The colour transition is awesome
It's like they all tell a different story
Real eyecatcher
Not the usual kind of rose
Negative Points
It makes all your other flowers looks simple.