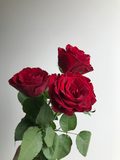 Rose: 'Madam Red'
What?
 This weekend we celebrate mothersday and ofcourse the classical gift is a bunch of red roses. So this week in our Flowertest Madam Red, a red rose from Kenya.
Information:
Name: Madam Red
Colour:  Red 
Grower: Flora Ola
Country: Kenya
Length: 70cm 
First Impression:
The buds are big and beautiful deep red, the leaves are dark green and the stems strong and big.
They have more thorns than I prefer but they come of easy so cleaning them isn't that difficult. 
The first impressions of this rose are good, it looks like they would last a couple of days and I think they will open up too!
After 7 days:
They came open beautifully, untill now every rose still looks fresh.
70% opened up, the leaves are still dark green and I think they will last at least 3 days.
After 14 days:
After 10 days I removed 3 roses with bad and brown leaves, after 12 days 10 more and the last 7 survived for 2 weeks!
Conclusion:
When you buy this variety for your mother she would have a beautiful vase of roses for at least 10 days.
90% of them opened up completely and they have an awesome vaselife that's really value for money! 
Positive Points:
Long vaselife of 10-14 days
Good quality for a 'normal' price
Every rose opened up
Negative Points:
They have quiet a few thorns

If you want more information about one of the varieties we've tested or you want your own roses to be tested, please contact us via info@jexnine.com or a with a direct message on any social media.