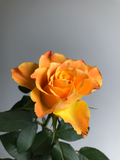 Rose: 'Marie-Claire'
What?
This time we're testing one of the most famous orange roses called 'Marie-Claire', since this is the second we're testing roses from grower 'Equinox' it's a kind of a growertest too!
Information:
Name: Marie-Claire
Colour:  Orange
Grower: Equinox
Country: Kenya
Length: 60cm 
First Impression:
I bought a bunch of 20 stems with a length of 60cm.
The colour is beautiful and bright, the stems and leaves are dark green  and they are looking very fresh.
After 7 days:
They've opened up a little bit and are still looking very fresh and vital, it looks like they will survive another week.
After 12 days:
Most of them opened up and they are getting brighter every day.
They went from orange to almost yellow in 10 days.
Conclusion:
It's obvious why this is such a well known rose, they are very strong and have good vaselife.
The colour is fantastic and the shape of bud after a couple of days is perfect too.
About the grower 'Equinox' we can conclude that they have a range of very beautiful and strong roses.
Positive Points:
Amazing vaselife of 12-14 days
The colour transition is awesome
Almost every rose opened up
Negative Points
The change of colour can also be a negative point when you need your flowers to be one exact colour (orange in this case) for a couple of days.