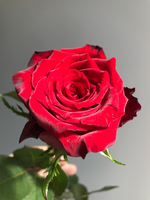 Rose: 'Monte Carlo'
What?
This week we're testing this beautiful red rose called 'Monte Carlo' from Sierra Flora
Information:
Name: Monte Carlo
Colour:  Red 
Grower: Sierra Flora
Country: Kenya
Length: 60cm 
First Impression:
A beautiful dark red rose with strong stems and dark leaves, they look very vital to me.
The first impression is very good and I expect a lot from this one!
After 7 days:
They open up beautifully, this rose is exactly what I expacted! 
After 12 days:
The complete bunch of 20 roses opened up, the shape is just perfect and they're still going strong.
Conclusion:
This is just an amazing rose, they last long, open up completely and have a beautiful red colour.
I think it's the perfect rose to give to your loved ones.
Positive Points:
Amazing vaselife of 12-14 days
Perfect red colour
Every rose opened up
Negative Points