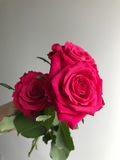 Rose: 'Orchestra'
What?
It's been a while since we tested some roses but now we're back with this rose called 'Orchestra'.
Information:
Name: Orchestra
Colour:  Cerise
Grower: Rosa Plaza
Country: Kenya
Length: 50cm 
First Impression:
 As you can see this time I bought them just a little bit more opened up.
When you buy them at this stage you can be for 80% sure that they will open up completely.
This variety doesn't have very big buds but they are perfectly shaped and I really love the deep colour.
After 7 days:
The opened up already and are still beautiful.
The colour stays exact the same and doesn't fade or change at all.
After 11 days:
80% opened up and that's not bad at all!
They won't last much longer but 11 days for a rose in this pricerange is very long.
Conclusion:
I'm impressed, I didn't pay a lot so I wasn't expact them to survive more than 5 days.
But they proved me wrong and I'm happy to admit that!
Positive Points:
Good vaselife of 11-12 days
Beautiful little rose
Nice price
Negative Points