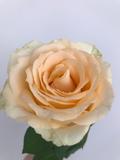 Rose: 'Magical Avalanche'
What?
Most people know the different Avalanche varieties as really strong and beautiful, but normally they're from Dutch growers. Now we've tested the Kenyan Avalanche, are they just as good as the Dutch? 
Information:
Name: Magical Avalanche
Colour: Apricot
Grower: Sian
Country: Kenya
Length: 50cm 
First Impression:
When you compare them with the dutch Avalanche the bud looks really small.
But when you forget that and judge them as always they just look nice.
They have a beautiful apricot colour which you can use very good for pastel coloured arrangements.
The bud is not very big but you can see right away that this rose will come open and I think that's more important then budsize.
After 7 days:
A lot of them already opened up and on the inside the look a little bit darker than when they're closed.
I think this transition of colour is really beautiful.
There are also a couple of rosebuds which are still closed and already feel soft, it doesn't look like they are going to last very long.
After 10 days:
Most of them are gone, 50% opened up beautifully and 50% didn't.
But for a kenyan rose it isn't bad at all.
Conclusion:
The colour is really beautiful and the vaselife is also pretty good.
I would really be impressed when they all opened up and last for 10 days, but they didn't.
So at the end of the story it's a nice rose but nothing compared to the dutch Avalanche.
Positive Points:
Good vaselife
Beautiful colour
Just a few thorns 
Negative Points
Small bud
About 50% won't open up