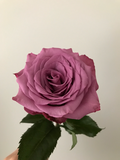 Rose: 'New Orleans'
What?
Again we're putting a Kenyan rose to the test, this time it's a new variety called 'New Orleans'.
Information:
Name: New Orleans
Colour: Milka
Grower: Bahati
Country: Kenya
Length: 60cm 
First Impression:
The colour is nice and soft and it's just looks like a normal and good rose.
The amount of thorn's are average and the budsize is also just normal.
A very average and normal rose, but who needs more when they just open up during the week and the colour stays beautiful?
After 7 days:
Every rose came open perfectly and the colour is still beautiful.
I think they will keep their head up a another day or two.
After 10 days:
Most of them are still standing, they are losing their vitality but 10 days is pretty good for a Kenyan rose.
After 12 days:
They're all gone by now, but I have to say they surprised me.
Conclusion:
They have a really good vaselife a really nice colour.
It's not one of the most beautiful or unusual varieties I've ever seen but never the less it's just a very good rose.
Positive Points:
They last 10-11 days
Beautiful colour 
Negative Points
 Nothing really. It's just a good variety, not special just good.