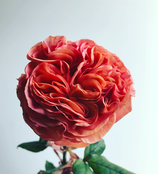 Rose: 'Glory Days'
What?
We're testing a bunch of very unusual roses this week called 'Glory Days'.
Information:
Name: Glory Days!
Colour: Orange
Grower: H. und S. Kretz
Country: Germany
Length: 60cm 
First Impression:
You have to look twice to see it's a rose, one of our instagram friends noticed; "they look like folded crêpe paper."
They allready are opened up so I'm very curious how they will change/grow/open up further during the week.
After 7 days:
I'm very surprised about how they grew, offcourse they didn't open up any further but they did grew a little bit bigger.
I think they don't last much longer because in the heart of the rose I allready see some brown petals.
(as you can see at the picture)
After 8 days:
They were all gone after 8 days, it's a very beautiful rose but not a very strong one.
I don't mind the "short" vaselife because it's a real eyecatcher and for me it's more important to have something special than to have something that lasts 2 weeks.
Conclusion:
It's a very special variety and a real eyecatcher.
They won't last very long but I still would buy them again.
Positive Points:
Eyecatcher
Very unusual variety
Negative Points
Brown petals appear very soon
Only last 6-8 day