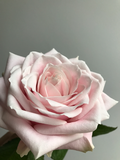 Rose: 'Sweet Avalanche'
What?
This week we're testing a bunch of 'Sweet Avalanche' from the dutch grower called 'Meijer'.
Information:
Name: Sweet Avalanche
Colour: Soft Pink
Grower: Meijer
Country: Holland / The Netherlands
Length: 60cm 
First Impression:
When you see the Sweet Avalanche (and all other Avalanche varieties from Meijer) you fall in love with it right away.
The beautiful soft pink colour and the shape of the flower are just perfect. 
After 7 days:
Every rose came open beautifully and they are still in a perfect shape.
I think they are going to last at least 12 days.
After 10 days:
They're still alive and kicking! Completely opened up and looking really awesome.
After 12 days:
The first one has dropped his head down and is losing some petals.
This is just top quality at its finest!
Conclusion:
They have an amazing vaselife, they look beautiful, they open up completely.
What more can I say?
Maybe you pay a little bit more than you would pay for a 'normal' rose but it's worth every cent/penny.
Positive Points:
They last at least 10-12 days
Beautiful colour 
Not much thorns
Negative Points
 It's mostly a little bit more expensive then other roses (but I'm willing to pay a little bit more for this exceptional quality)