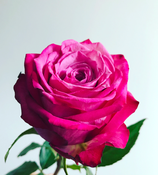 Rose: 'i2i'
What?
This time we are testing the rose 'i2i' in our flowertest, this is a new variety of Bloomingdale Roses.
Information:
Name: i2i
Colour: Cerise / Purple
Grower: Bloomingdale Roses
Country: Kenya
Length: 70cm 
First Impression:
This is a complete new variety, the colour is pink on the inside and a little bit more purple/cerise on the outside.
The bud feels hard and they have a lot of thorns.
At first sight it's a beautiful rose but I would be surprised when they open up. 
After 7 days:
It's a beautiful and strong rose but just a few opened up, the rest just stay the way I bought them as you can see in the picture. (The rose on the right stayed completely closed)
After 10 days:
They are still there but it doesn't look like they're going to change a lot more, I think they are asleep.
Conclusion:
It's a beautiful rose and I would say they're just ok.
It's not really an eyecatcher, they won't open up very easy and they have a lot of thorns.
But the colour is nice and althought there are just a few in a bunch which will change during the week they will last 7-10 days.
Positive Points:
Beautiful bright colour
Strong rose 
Their vaselife is just fine with 7-10 days
Negative Points
 Not a real special rose or an eyecatcher
A lot of thorns
40% didn't open up