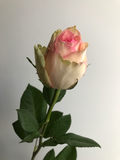 Rose: 'Esperance'
What?
This time we're testing a bunch of  20 roses called 'Esperance' from the Kenyan grower called 'Equinox'.
Information:
Name: Esperance
Colour: White/Pink
Grower: Equinox
Country: Kenya
Length: 60cm 
First Impression
When you see 'Esperance'-roses for the first time you would think they won't open up at all.
The rosebuds are really closed and they just look like white roses.
After 7 days:
You can never misjudge a rose more than I did with this one.
After 2 days the roses allready started to grow and show their pink heart.
After 7 days every single rose came open beautifully, and it looks like they will open up even further.
After 10 days:
The complete bunch of 20 roses is still standing!
They did came open even more and by now they have tripled in size.
 The pink heart gets brighter every day and right now it's a really nice soft colour.
After 15 days:
There are still some roses left, they have lost their soft pink colour and are allmost completely white right now.
Conclusion:
 This is one of the strongest and most beautiful roses I've seen in a very long time.
The first one died after 11 days and the last one gave up after 15 days.
After 2 days they start to open up and they surprise you every day a little bit more.
If you can't take care of roses normally then you should give it another try with this variety.
Positive Points:
They last at least 11-15 days
Perfect rose for beginners 
Not much thorns
Negative Points
 At first sight they don't look like a strong and special variety