Rose: 'Pop Star'
What?
This week we're testing a new variety of roses called 'Pop Star'.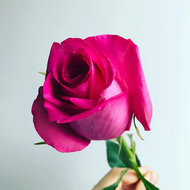 Information
Name: Pop star
Colour: Pink (Cerise)
Grower: Bellissima
Country: Kenya
Length: 70cm
First impression
Every single rose in the bunch of 20 pieces looks perfect.
They have got a normal amount of thorns and the bud is 6cm big.
The intens pink colour draws your attention right away, I guess that's why they are called 'Pop Star'.
After the test I can tell you if they are one day flies or real queens and kings of pop.
After 7 days
Not one single rose died until now, 18 of the 20 roses totally opened up and they look amazing.
The colour is just as beautiful as when I bought them.
After 10 days
We've got 5 survivors left, so we can really call them Pop Stars!!
Conclusion
This rose truly surprised me, it's big, it's beautiful and really strong.  
I would definitely recommend this rose.
Positive points:
Vaselife 8-12 days
Retain their colour
Big bud
Completely open up
Negative points:
Big stems (makes it a little bit harder to cut off)