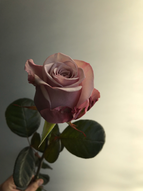 Lovelace+
This rose smells delicious and the color fits perfectly in the biggest wedding trend of this moment, but to be a star in wedding florals they have to open up and last long. We're going to find out if they are good enough to be called 'the perfect wedding rose' .
Information:
Name: Lovelace
Colour:  Soft Pink / Lila
Grower: Arend Roses
Country: Netherlands
Length: 70cm
Introduction:
When I googled the name Lovelace+ the first thing that pops up is an adult movie with the  actress Linda Lovelace.
Although it felt a kind of strange to me I couldn't find anything else or anyone else with the name Lovelace so I figured it has to be named after this actress.
But then I got too curious why they named it after her so I had to contacted the grower to ask about it.
And I was totally wrong, Lovelace was an English poet in the seventeenth century.
When the Arend crew was at the breeder to talk about this new rose there was a painting with a poem by Richard Lovelace, and because they loved it that much they decided to call this rose Lovelace!
First Impression:
A lovely soft pink color with a little lilac touch, a big bud and dark leafs.
At first sight this looks like an amazing rose, perfect for weddings and special occasions.
The stems are big and strong and the amount of thorns is just normal.
I think these roses will amaze us with their vaselife, normally I don't allow myself to have high expectations but I can't help it this time.
In two weeks we know exactly how long they lasted!
After 7 days:
I'm just in love with the color, it's getting softer and softer. Right now they're all opening up but still look very vital.
I think they will last for at least another 4 days.
After 12 days:
They all opened up widely, every single stem looks perfect!
Conclusion:
 The beautiful soft color in combination with the authentic smell of roses is just unique.
When we received these roses we already loved the soft lilac color, but it gets more beautiful every day.
As soon as they start opening up you see the color getting softer.
This rose is without a doubt the perfect wedding rose for every pastel themed wedding, but is also lovely as a gift.
Why should you buy this rose?
A lovely soft color!
A vaselife of almost 2 full weeks
Opens up widely
Strong rose